KRRA
KRRA Fort Henry 5km Cross Country Race
Date/Time

Date(s) - Saturday, September 28, 2019
8:00 am - 12:00 pm
Location
Fort Henry Hill
The Kingston Road Runners Association (KRRA) presents their one-and-only annual cross country race. The Fort Henry 5KXC  cross country at Fort Henry Hill is a well-groomed trail overlooking Fort Henry, RMC and the entire city. It is a closed course race used by many clubs and associations. Coach Al Cantlay of Runners' Choice trains his Tuesday night workouts on the course  in the early autumn.
Check out these nice pint glasses, first 100 registrants into the 5KXC race will receive a branded pint glass (contents not included).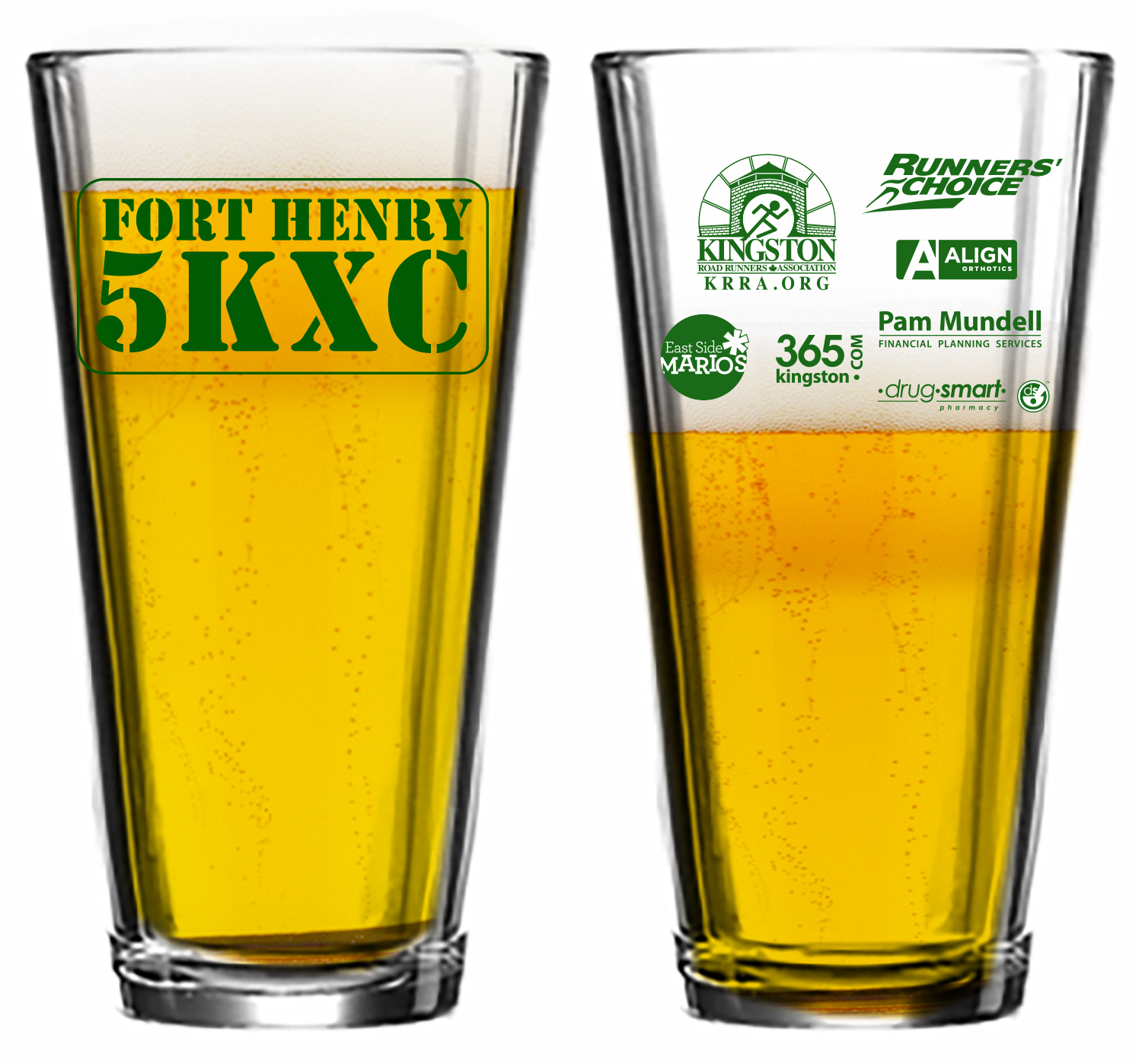 Schedule for 2018
29 Sep 18- Bib pick up and Day of Registration will start at 8:00am until 8:45am for the Kid's Race and until 9:45am for the 5KXC
29 Sep 18 – 1km Kid's race will start at 9:00am
29 Sep 18 – Kid's awards at 9:30am
29 Sep 18 – 5KXC race will start at 10:00am
29 Sep 18 – 5KXC awards at 11:00am
The Course
The race course is 2.5km in length that has small rolling hills mostly covered with grass. It is the same loop used for National Cross Country 2.5km loop.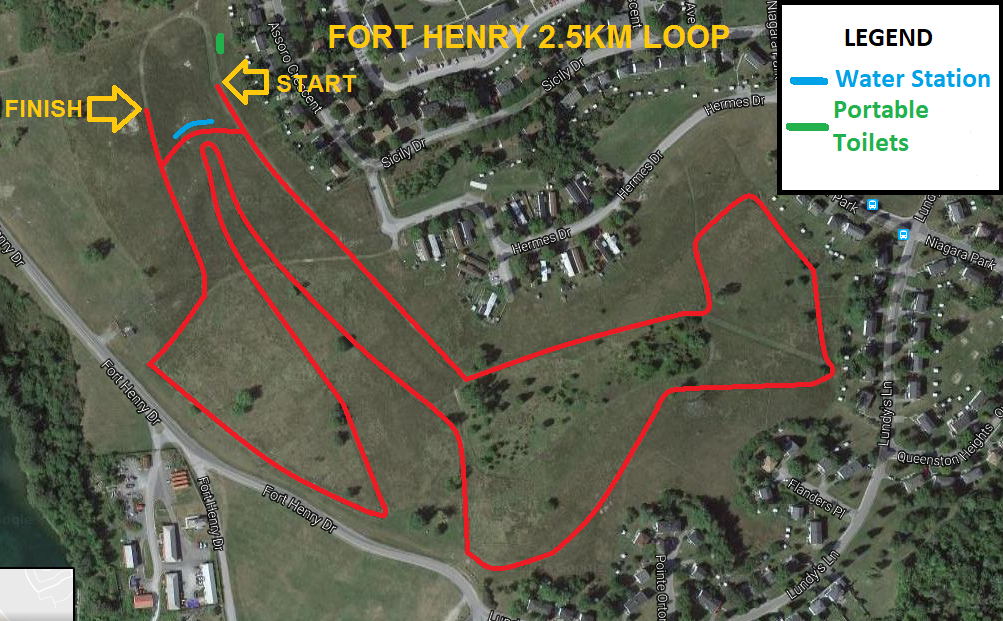 Parking is available at the top of Fort Henry Hill. There is street parking Assoro Crescent and Sicily Drive.
Kid's 1km Race
There will be a Under 14, 1km Kid's Race. Medals for 3 top male and female finishers. Ribbons for all runners. The Kid's 1km Race's start time is 9:00am. Cost is $5.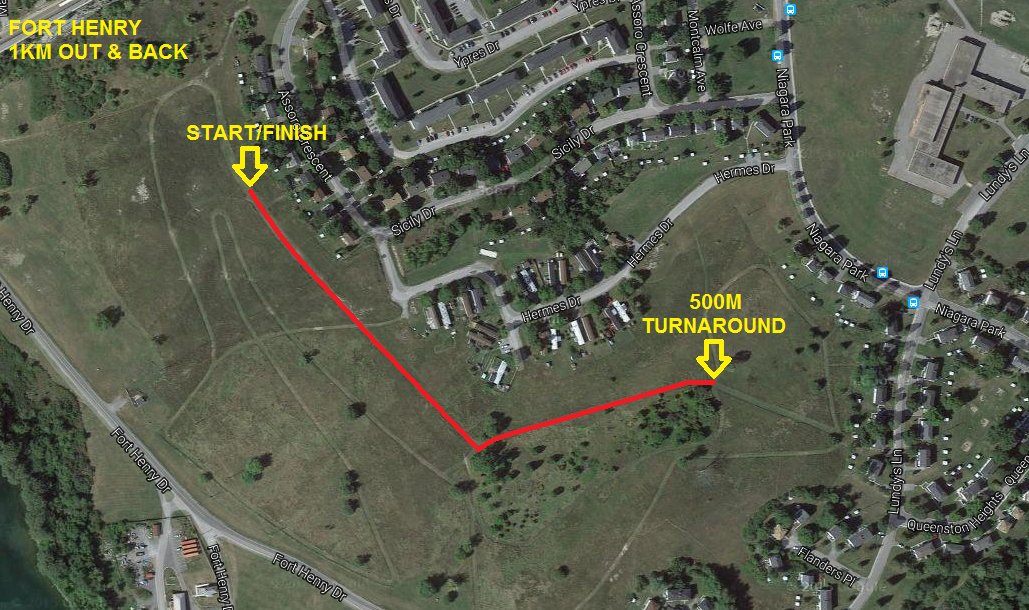 5km Cross Country Race
The 5km race is a 2.5km loop run twice at the top of Fort Henry Hill. This is the only cross country race that is part of the KRRA Race Series. This race route is the very same being used for the Canadian XC Championships in November.
The cost to register for the 1k & 5KXC is:
$30 for adults on Race Day
$25 for Youths (19 & under)
KRRA members receive a $10 discount until Friday Sept. 28st.
$5 for entry to the Kids 1k Race
There will be medals for top 3 male and female finishers in both Kid's 1k and Fort Henry 5KXC. Medals will also be handed out in the Fort Henry 5KXC in the following age categories for both top 3 male and female as follows 14 & Under, 15-19, 20-29, 30-39, 40-49, 50-59, 60-69, 70+.
Race Results will be available from Running By Design.
Registration for 2018 is now closed. Thank you to those who came out to support the event!
Parking/Day of Registration
Parking as per the diagram below. Registration will be allowed on the day of the event until 30 minutes before the start of each event.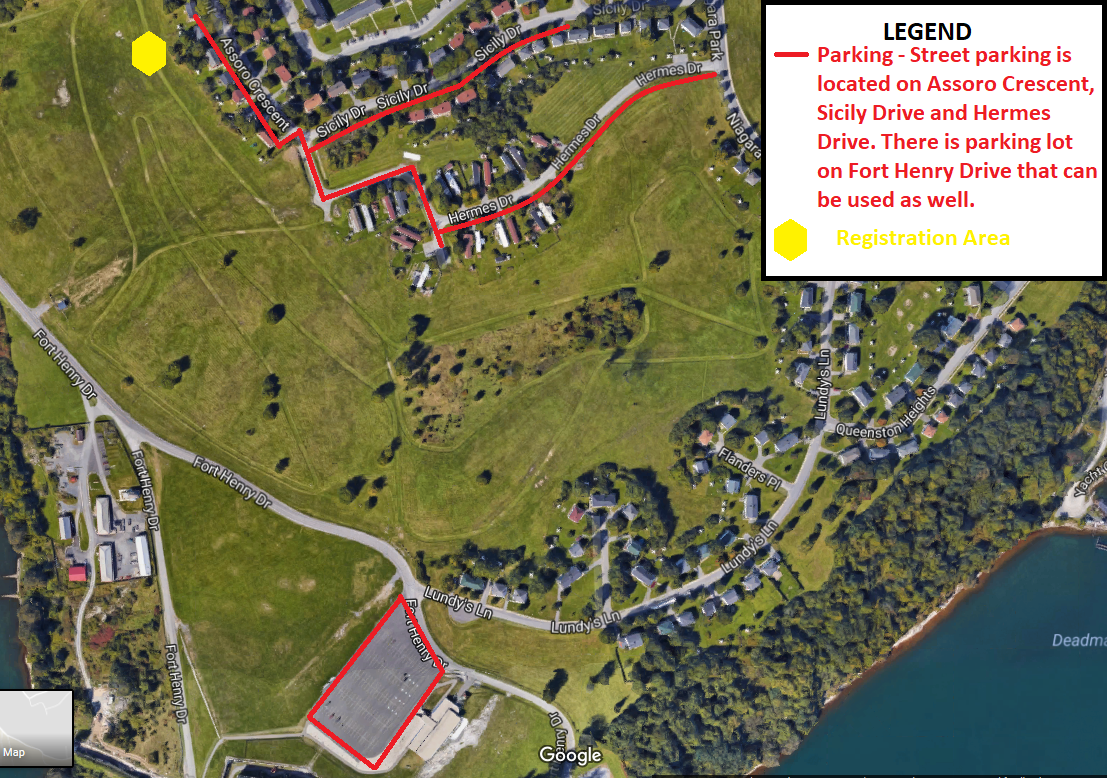 Team Competition
There will be team competition for the event. There are two divisions, Youth (19 & under) and Open in the 5KXC. Each team will need to be made up of 2 male runners and 2 female runners. For a team to be considered Youth, all runners must be under 19 as of January 1st, 2017. If one runner is over 19, they will be placed in the open division. There are no age restrictions in the Open Division. There will medals for top 3 teams in each division. Scoring will be done by placing with lowest score wins. Examples below:
Team Scoring Example
Team A: 1,2,3,4 = 10
Team B: 5,6,7,8 = 26
Team C: 10,13,14,18 = 55
Team D: 9,11,12,23 = 55
Tie break will be based on the 4th runner. Team with the better 4th place finisher wins. In the example Team C beats Team D, since Team C 4th runner (18th) placed better Team D 4th runner (23rd).
To register a team, email forthenryrace@outlook.com with the four member names and a team name. In the subject line please put Team Entry Open or Youth. Team entry closes on 22 September 2017 at 23:59pm and there will be no day of entries for the team event. There is no additional cost however members must be entered in 5KXC race.
If a runner doesn't finish, the team is disqualified.
Charity for this Event
All proceeds will be going to Camp Maple Leaf.
2018 Sponsors
Thank you to our sponsors who are supporting this event. Some will be in attendance at the event. Be sure to drop by, say "hi". Meanwhile, visit their websites with a click.
____________________________________________________________
5KXC Race Results
2018 — 5K Race overall | 5K Age Categories | 1K Kids Race | Team Results | Photos
2017 — 5K Race overall | 5K Age Categories | 1K Kids Race | Team Results | Photos
2016 — 5K Race overall | 5K Age Categories | 1K Kids Race | Team Results | Photos
2015 — 5K Race overall | 5K Age Categories | 1K Kids Race | Photos
Run with the Wild – Past Results
<!h4 class="krraprestop"><!Race><!/h4> <!h3 class="krrapresbottom"><!Location><!Route Map><!/h3> <!div style="padding:20px"><!hashtag_LOCATIONMAP><!/div>