KRRA
KRRA – Twosome Run 5k
Date/Time

Date(s) - Sunday, February 11, 2018
10:30 am - 12:30 pm
The location, course and logistics for the 2018 KRRA Twosome Run are under development.  The information presented below pertains to the 2017 race.
This race is organized and supported by the Kingston Road Runners Association in support of the Kingston Food Sharing Project, feeding children in our schools as well as other KRRA charitable causes.
In this unique Winter event, runners compete as individuals for KRRA series points, but can also compete as male-female teams for "twosome" overall and combined age group placings.
Congratulations to all who competed in the 2017 KRRA Twosome Run! Race Results are available through runningbydesign.
Registration
Registration for the 2017 Twosome Run is now closed.
Race kit pickup Saturday, February 4th, 12-4pm at Runners Choice Kingston, 56 Brock Street
KRRA members will enjoy a $10 discount for this race! All fees go up $5 on race day.
DrugSmart Pharmacy has a special prize open to all Queen's University twosomes. Should any Queen's U twosome win the race, they are eligible for prizing.
Course Map
Click on the course map below for a more detailed version.
.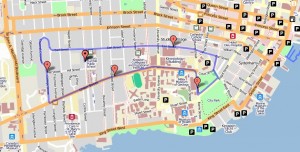 Same-gender teams are welcome as well but are not eligible for medals. All runners (twosomes and "onesomes") qualify for KRRA Race Series points. Anyone who would like a partner can email kevin.webster@ucdsb.on.ca and he will team you up.
Event Schedule
Thursday Feb 2nd
midnight – Online registration closes
Saturday Feb 4th

12-4 pm – In-person registration and early race kit pickup at Runners' Choice 56 Brock Street
Sunday Feb 5th
9:15 am – Registration and race kit pickup at Winston Churchill P.S.
10:30 am – 5km Race Begins
11:30 am – Awards/Draws/Food & Beverages
Event Information
Timing will be done by runningbydesign.com.
Technical socks guaranteed to first 120 runners registered
Shoes (courtesy Runners' Choice) to the middle-of-the-pack twosome
Many Great Draw Prizes – All registrants and volunteers are eligible for Draw Prizes
This race was featured in the Jan/Feb 2012 issue of Canadian Running Magazine ("For the Love of it", pg. 48)
Parking         There is an abundance of free on-the-street parking in the vicinity of Winston Churchill P.S. Please try to avoid parking on Earl Street or MacDonnell Street adjacent to the school (the race route) or in the school parking lot. Arrive early and you'll find a spot close by on Hill, Napier, Toronto or Victoria Streets.
Washrooms       Washrooms are available in Winston Churchill P.S. but shower facilities are not available
Volunteers         Please contact Race Director Kevin Webster at to volunteer for this event.
Sponsors
We would like to thank the following companies and organizations for supporting this important fundraiser.
.
Results and photo links
.

Race
Route Map
Map Unavailable