KRRA
KRRA – Limestone Race Weekend 2K, 10K, 5K & Half Marathon
Date/Time

Date(s) - Saturday, April 29, 2017 - Sunday, April 30, 2017
All Day
Location
City Hall, Kingston Ontario
Thank you to all the volunteers, runners and spectators who participated to make the 2016 Limestone Race Weekend a success. Read this post for a report on the event: 2016 LRW: Top athletes, good weather, great results
—————————————-
Register for all races
Update: The new half marathon course has been certified by Athletics Canada.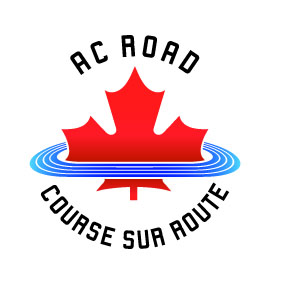 We have removed the hair pin turn just before the 3K mark and moved the start back to accommodate this change.
HISTORIC HALF MARATHON/5K
5K: Earlybird until Jan. 31 $30 Feb 1 – Mar 31 $40, April 1-30 $50 ($10 off for KRRA members until Apr. 27)
Half Marathon: Earlybird until Jan. 31 $50, Feb 1 – Mar 31 $60, April 1-30 $70 ($10 off for KRRA members until Apr. 27)
Online registration here
Hard copy registration click to download.
KGH TRAUMA 10K
10K: Earlybird until Jan. 31 $30 Feb 1 – Mar 31 $40, April 1-29 $50 ($5 off for KRRA members until Apr. 27)
Online registration here
Hard copy registration click to download
Course Maps

Historic Half/5K  Course Map
The 5K Race route is also the first 5k of the Historic Half Marathon. Both races begin at the same time heading north on Ontario Street and looping through Royal Military College, returning via Ontario St.  The 5K runners finish in front of City Hall, while the half marathon runners continue along Ontario Street; this time turning left (west) on King St., travelling through Portsmouth Village, along the waterfront path, through Lake Ontario Park, en route to the turn-around past the Dupont plant on Front Rd; runners re-trace the course back to City Hall and the finish line.
KGH Trauma Unit 10K  Course Map
Out and back course starting at the foot of Emily St., along waterfront path, through Portsmouth Village and Lake Ontario Park to a turn around at the 5K mark on King St. W.
Saturday's Races
Kids' 2K
TARA BURGRAFF IS THE NEW RACE DIRECTOR FOR THE START2FINISH 2K.
The Kids' 2K race is organized and supported by the Kingston Road Runners Association for elementary students from grades 1 to 6 (up to 11 years old).  Students from the Run & Read program receive a FREE entry; other students pay $5.
NEW DISTANCE and RACE ROUTE. Due to the large turnout of the past few years this race will continue to be held entirely on the foot path. No more worries about crossing streets, or running on the shoulder of the road. And with the new 2KM distance, it should be more accessible to young people.
Registration starts at 2:30 pm in MacDonald Park near the foot of Emily Street. Last year there were a lot of  last minute registrations, so it's best to arrive early.
The race begins at 3:30 pm.  There will be a brief awards ceremony at the conclusion of the race.  All finishers will be awarded a KRRA finishers' ribbon.
2016 DONATION to START2FINISH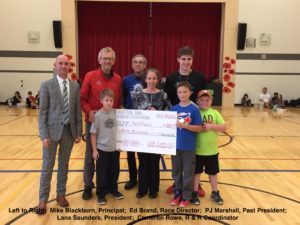 .
.
KGH Trauma Unit 10K
The KGH Trauma Unit 10K race is organized by KRRA in association with the Kingston General Hospital Trauma Unit.  Funds go to support the KGH Trauma Unit.
Race day registration begins at 3:30 pm in MacDonald Park near the foot of Emily St.  This is a one-of-a-kind run along the Kingston waterfront, beginning and ending in MacDonald Park.
The race starts at 5:00 pm with an awards ceremony to follow at 6:30 pm. The KGH Trauma 10k race is aimed at raising awareness and injury prevention of year round causes of trauma. Some examples are snowmobile and boating accidents, and car crashes, all of which are preventable.
The 2015 event was a tremendous success with thanks to Race Director Cathy Dain, KRRA, and a team of volunteers.   To volunteer contact race director Cathy Dain at: Cathy Dain <cathydain@hotmail.com>
Sunday's Races
Historic Half marathon/5K
The 5K and Historic Half Marathon is our biggest race of the year. Several hundred runners participate annually in these two races. It's a huge start with both distances beginning at the same time with chip timing by Sportstats. The race course takes all runners north and east, over the causeway, looping through the RMC grounds and back along Ontario St. The 5K runners finish in front of City Hall, while the half marathoners stay left and continue west along the waterfront path, past the old Kingston Pen, through Portsmouth Village and Lake Ontario Park, runners continue west along King St. W. and Front Rd. until the turnaround just past the centre entrance to Dupont Canada. Runners retrace their steps to an exciting finish right at City Hall.
Location
To take the hairpin turn out of the RMC part of the course we have adjusted the start line.  The start reverts back to a location just south of the Ontario St. & Clarence St. intersection, close to where it was in years past.  The signal will go  at 9:30am to start the Limestone Historic Half-marathon & 5k races. 5K runners race to the finish in front of Kingston's 170 year-old City Hall. The half-marathoners keep going; they have another 16.1 kms of running ahead of them, along our beautiful historic waterfront and back to City Hall for hot chili from the Brew Pub, prizes and music!
3-Runner Team Competition
The Limestone Race Weekend will once again have the 3-some team competition. The 3-some needs to consist of one female, two males, one runner in the 5K, 10K and Half marathon. The three places (last year it was times) are added together to determine combined winning times. There will be medals and prizes for the top THREE 3-some teams. Start picking your team. Get your team sign-up form here.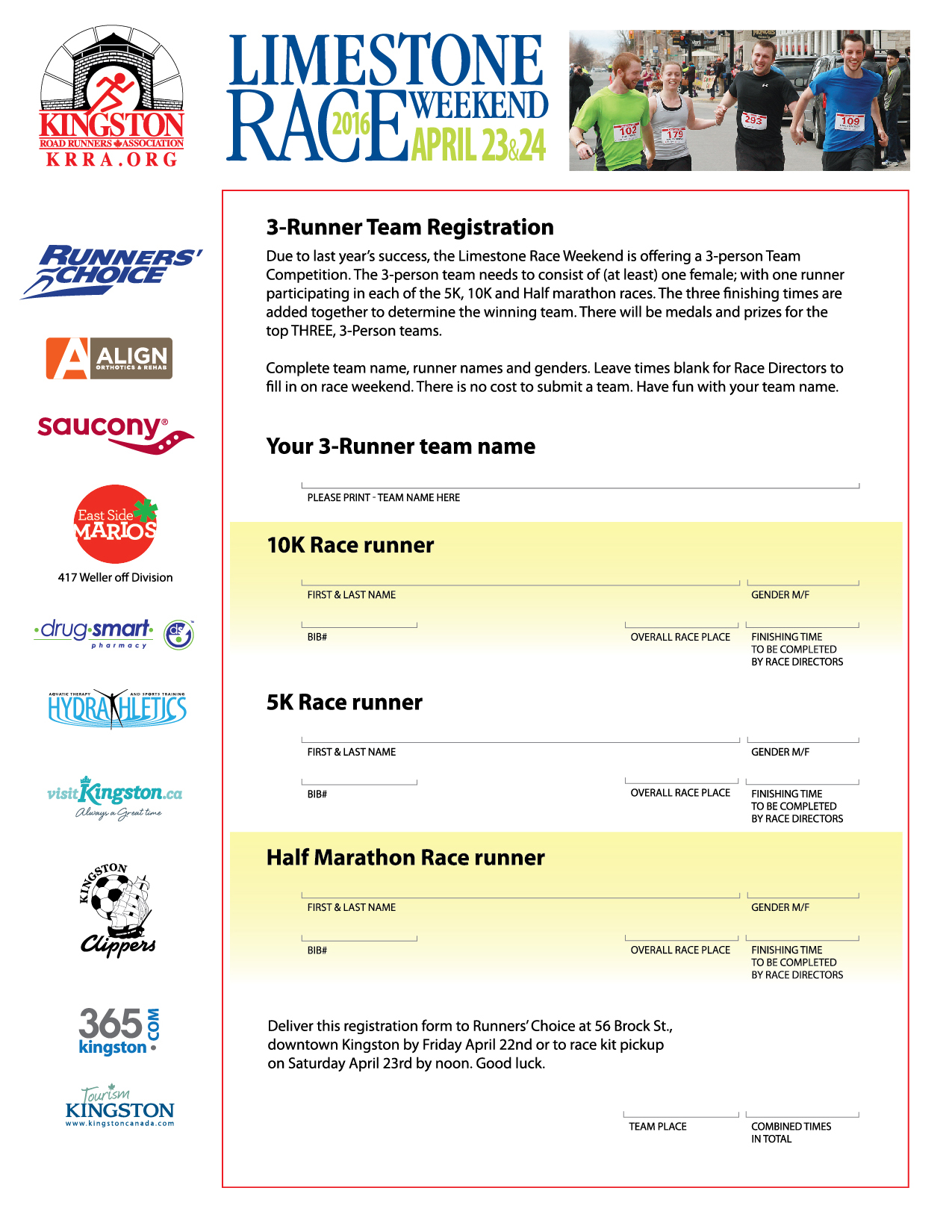 Marquee Sponsors
The KRRA wishes to thank the following organizations who make this event happen.
Sponsors & Community Supporters
Many assist to make this race event so successful. Thanks goes out to:
City of Kingston
Community Police of Kingston
K-Rock 105.7, 93.5 Country, KISS 102.7
RMC/CFB Kingston
St. John's Ambulance
Are you ready to sponsor the Limestone Race Weekend? Not only do you get the appreciation of athletes of all ages, but your commitment helps the KRRA support numerous Kingston based charitable organizations. Oh and you get presence on our website, social media, in the race kits, on the event's  promotional material and you can have presence at the event.
The 2016 event was a tremendous success with thanks to Race Directors Ed Brand and the LRW Race Committee, volunteers, sponsors and community supporters. Media on the event came from KRock, The Kingston Whig Standard, 365ontario.info and a blog from race participant. To volunteer contact Mark Kerr at: or Race Director Ed Brand at:
Event Information
Sunday April 30
7-9am – Registration still open. Half/5k race kit pickup at Confederation Park (Ontario Street)
9:30am – Half/5k races begin
10:30am – 5k Race Awards
11:45am – Half Marathon Race Awards
Runners registered by April 14, 2017 will be guaranteed a short sleeve technical shirt and customized bib.
Draw prizes for all registered runners and volunteers.
Medals for all Half Marathon finishers.
Cash prizes for top three overall finishers and age group medals for both men and women in both Sunday races.
Runners' Choice will present a pair of shoes to the middle of the pack finisher in both Sunday races.
Hot chili (provided by The Kingston Brewing Company) plus fruit, bagels and cold drinks provided post-race on Sunday.
Race accommodations provided by Four Points Sheraton
Out-of-Towner Award: registered runner must submit receipt of April 29, 2017 for an overnight stay to Race Registration before awards. Award presented by Kingston Business Improvement Association.
Half Marathon Course Record Holders: Male Lionel Saunders 1:07:52 (2013), Female Leslie Sexton 1:20.48 (2006)
5K Course Record Holders: Male Dylan Wykes 14.37 (2007), Female Courtney Babcock 16.26 (2006)
$500 Cash Bonus for New Sunday Course Record
Race Kit Pick-up
Race kit pickup for The KGH Trauma 10K will be at the start/finish are in MacDonald Park starting at 3:30 pm
Race kit pickup for the Half marathon and 5K will be at The Kingston Brewing Company on Saturday, April 29, 2017 from 11:00 am to 5:00 pm.  Late race pickup will be available on race morning from 7:30 am to 9:00 am in the start/finish area.  Runners who register by April 14, 2016 will be guaranteed a race shirt and personalized bib.  To be sure you get the shirt .  size you ordered, it is strongly suggested that pick up your race kit on Saturday, April 29.
Parking
There is plenty of free Sunday street parking in Downtown Kingston as well as in municipal lots.
Past Results
Check out the results from past years of the Limestone Race Weekend, for the 5K and Half Marathon.
Race
Route Map