KRRA
KRRA – Limestone Race Weekend 2K, 10K, 5K & Half Marathon
Date/Time

Date(s) - Saturday, April 28, 2018 - Sunday, April 29, 2018
All Day
Location
City Hall, Kingston Ontario
Thank you to everyone who attended, participated, volunteered, sponsored and cheered at the 2018 Limestone Race Weekend. With 650+ runners this year, we are proud of our efforts to fund local charities and bring people together to enjoy Kingston's beautiful downtown, parks and historic sites. Kingston's biggest annual weekend event has provided 10's of thousands in donations by an all-volunteer team.
The KRRA would also like to thank retiring Race Director Ed Brand for his tireless efforts over the years, bringing us the Limestone Race Weekend. His diligence will most certainly be missed. Behind the scenes, preparing for the LRW is a huge effort; one made even greater managing the Historic Half course – due to seasonal (and somewhat unpredictable) construction. Ed has indicated he will continue to participate in the LRW and KRRA as a volunteer, but he is quoted as being happy to hand over the reigns to the event's new RDs: Pamela Mundell and Janet Shepherd. Pamela has been a staunch supporter of the LRW and KRRA race events with sponsorship, and is excited to step up and tackle the responsibility of co-directing the race with Janet. Both have been dedicated KRRA volunteers for many years.
———————
Just announced: Elite Canadian runner Rachel Hannah, and top performer Paula Wiltse will both be participating in the Historic Half Marathon.
The Kingston Road Runners Association is pleased to present our feature races of the year.  There will be a unique finishing medal for 2018 half marathon runners.
KRRA supports the Start2finish Reading and Running program at Molly Brant Elementary School in Kingston, and the KGH Trauma Unit, dedicated to raising awareness and injury prevention of year round causes of trauma.
The 2017 half marathon course was certified by Athletics Canada.  Due to ongoing re-construction of the waterfront path, a project that will likely not be completed by April 29, 2018, we will be unable to use our 2017 certified course.  However any new course will be accurately measured.
HISTORIC HALF MARATHON/5K FEES Unchanged for 2018
5K Race:
April 1-29 $50 ($10 off for KRRA members until Apr. 26)
Half Marathon:
April 1-29 $70 ($10 off for KRRA members until Apr. 26)
Register for Half Marathon/5K: online registration | hard copy registration
KGH TRAUMA UNIT 10K FEES Unchanged for 2018
April 1-28 $50 ($5 off for KRRA members until Apr. 26)
Register for KGH Trauma Unit 10K: online registration | hard copy registration
Saturday's Races
START2FINISH 2K
For kids 6-11yrs old
April 28, 2018, 3:30pm
MacDonald Park near the foot of Emily St.
** Please note – There are changes to this years' run due to construction on the course:
The race is a non-competitive fun run and timing will not be provided
The distance is 2K in total, run as a double loop of a 1km route
No registration fee; donations accepted for the Run and Read Program at Molly Brant elementary school
There will be prizes & draws
*Race bib pick up beginning at 2:30 pm at race site.
_______________________________________________________________________________________________
KGH TRAUMA 10K
This is an out and back run along the Kingston waterfront, beginning and ending in MacDonald Park.
Race Kit pick-up and race day registration begins at 3:30 pm in MacDonald Park near the foot of Emily St.
KGH Trauma Unit 10K Course Map available here.
The race starts at 5:00 pm with an awards ceremony to follow at 6:30 pm. The 2018 KGH Trauma 10K race results are available at runningbydesign.com.
To volunteer contact race director Cathy Dain at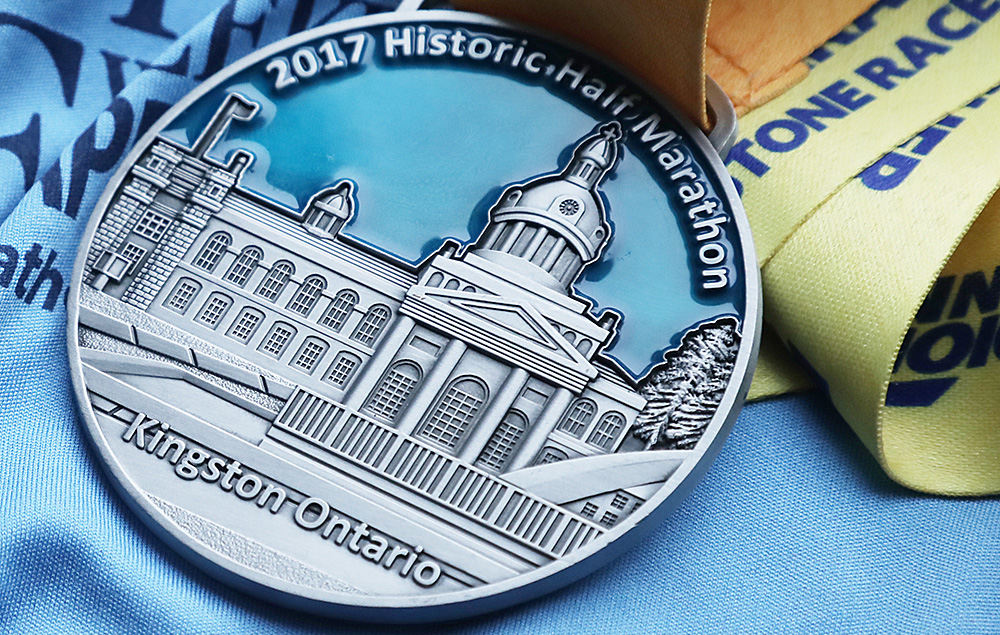 Sunday's Races
Historic Half Marathon/5K Background
Location City Hall, Kingston Ontario
3-Runner Team Competition 3-some information
Get your 2018 team sign-up form here: Team Registration
Historic Half Marathon Course Change
Due to bridge construction on west end on Front Road, the course has been adjusted. Additional police have been hired to assist runners crossing Front Road onto Country Club Drive.
REVISED Historic Half Marathon Race Route – LARGE version
Click map for large version. Zoom option available by clicking with magnifying glass. Scroll to view sections.

VOLUNTEERS NEEDED – to volunteer contact Volunteer Coordinator Suzanne Kerr at:  or Race Director Ed Brand at:
EVENT INFORMATION
Saturday, April 28
Race kit pickup for the Half marathon and 5K will be at The Kingston Brewing Company on Saturday, April 28, 2018 from 11:00 am to 5:00 pm.  Late race pickup will be available on race morning from 7:30 am to 9:00 am in the start/finish area.  Runners who register by April 13, 2018 will be guaranteed a race shirt and personalized bib.  To be sure you get the shirt size you ordered, it is strongly suggested that pick up your race kit on Saturday, April 28.
Sunday, April 29
7-9am – Registration still open. Half/5k race kit pickup at Confederation Park (Ontario Street)
9:30am – Half/5k races begin
10:30am – 5k Race Awards
11:45am – Half Marathon Race Awards
All registered runners and volunteers are eligible for draw prizes
Medals for all Half Marathon finishers.
Cash prizes for top three overall finishers and age group medals for both men and women in both Sunday races.
Runners' Choice will present a pair of shoes to the middle of the pack finisher in both Sunday races.
Hot chili  (by The Kingston Brewing Company) plus fruit, bagels and cold drinks provided post-race on Sunday.
Half Marathon Course Record Holders: Male Lionel Saunders 1:07:52 (2013), Female Leslie Sexton 1:20.48 (2006)
5K Course Record Holders: Male Dylan Wykes 14.37 (2007), Female Courtney Babcock 16.26 (2006)
$500 Cash Bonus for New Sunday Half or 5K Course Record
Cash awards: Half (M & F) – overall 1st: $300; overall 2nd: $200; overall 3rd: $100
5K (m & f) – overall 1st: $150; overall 2nd: $100; overall 3rd: $50
The 2018 Half Marathon and 5K race results are available at sportstats.ca.
Parking
There is plenty of free street parking on Sunday in Downtown Kingston.
Past Results
Check out the results from past years of the Limestone Race Weekend, for the 5K and Half Marathon.
http://www.krra.org/events/krra-limestone-race-weekend/
Sponsors & Community Supporters
The KRRA wishes to thank the following sponsors and organizations who make this event happen.
City of Kingston and Community Police Volunteers of Kingston
RMC/CFB Kingston
St. John's Ambulance
Race
Location<!Route Map>